30 MATCHES SCORE BIG AT TOP GOLF MIDTOWN!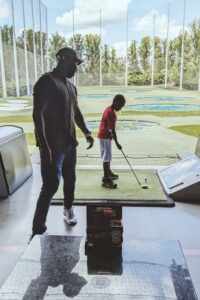 ATLANTA - On Sunday, July 9th, 2023, Big Brothers Big Sisters of Metro Atlanta (BBBSMA) had 30 amazing Big & little matches attend a beautiful afternoon of golf, sunshine, food, and fun at Top Golf Midtown. Bigs and Littles had the opportunity to hang out and master their hole-in-one technique at one of Atlanta's favorite hotspots.
A special thank you to the Dalton Family Foundation -- for sponsoring this activity -- as well as Marcus London, MBA for facilitating this generous Foundation gift and for his continued support and partnership.
Look out for more fun activities or Become a MatchMaker with a monthly donation that provides the means and resources to sustain life changing relationships like these. Donate HERE.
Big Brothers Big Sisters of Metro Atlanta's one-to-one mentoring program works with volunteers, parents, and families to help create relationships that defend, inspire, and empower the potential that lives within every kid.