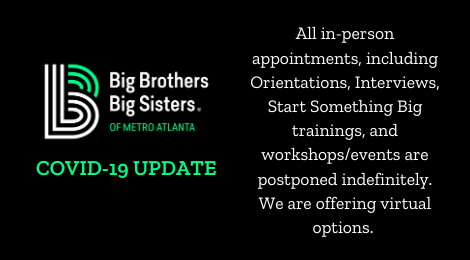 Our mission is the same as it's always been, but the need is more urgent than ever. We make a difference by creating professionally supported one-to-one matches for kids who want to realize their full potential. Our organization can't make the impact we need in Metro Atlanta without you.
They have the potential to change the world. Be their ally.

Take the first step towards becoming a Big Brother or Big Sister by attending a Big Orientation. Each step in the process moves you closer to standing with us as a Defender of Potential. You can click each step to learn more.
If you're interested in becoming a mentor via our Site Based program - Beyond School Walls or School-Based Mentoring - you can learn more here.
The interview will help us learn more about you and who would make a good Little for you.
Learn the essentials for being a great Big Brothers Big Sisters of Metro Atlanta mentor.
The match meeting will introduce you to your Little and their parents or guardians. Afterwards, Big Brothers Big Sisters of Metro Atlanta works hard to support the relationship you have with your Little.

Looking for more information? Find answers to frequently asked questions below.
Our Bigs come from diverse backgrounds just like our Littles. They are regular people, just like you. You don't need any special degrees or job skills. You just have to want to positively impact a young person. Role models come in all shapes and sizes, and you could be a perfect fit.
In order to apply to be a Big, you must be over the age of 21 and able to commit to meeting with your Little a couple times a month for at least one year. We also ask that you:
have reliable transportation
plan to live at your address for at least 1 year
consent to a criminal background check
be drug-free
live in our service area: Butts, Cherokee, Clayton, Cobb, DeKalb, Douglas, Fayette, Fulton, Gwinnett, Henry, Paulding, and Rockdale counties
The Littles in our program come from a variety of backgrounds and have many different interests. Our interview process will help to match you with your perfect Little.
We match children ages 8-14 and they remain a part of the program until high school graduation. 81% are black, 71% come from single parent homes, 85% are low-income, 84% qualify for free or reduced lunch, and 52% has a family member who has been incarcerated.
93% maintained or improved a sense of social acceptance, 88% of high school seniors graduated on time, 93% of graduating seniors reported plans to pursue post-secondary education or the military, and 97% avoided the juvenile justice system.
As a Big/Little team, you decide together what you want to do and then your Little gets approval from his or her parent. We recommend that you keep a consistent schedule of outings and get together on a regular basis. Your local agency will provide more guidance on this. The outings will also depend on the comfort level of your Little's parents, your Little, and you.
The quality of the time you invest with your Little is more important than the amount of money you spend. That's why we don't encourage spending a lot of money on your outings. The goal of the relationship is to help your Little see the world through a different lens so you can inspire your Little to become something they never thought possible. If you are going to spend money, we encourage you to seek out low-cost activities, especially in the beginning. Play a game together or share that pizza that you were going to have for lunch anyway. As a Big, you may also receive notices for free tickets to cultural and sports activities for you both to enjoy.
Share an activity that gives you something in common to talk about. Go to the library, check out a book and read together. Buy a comic book to read together. Play a board game. Go on a nature walk. Hit a bucket of golf balls at the local driving range. You want to select activities that give each of you a chance to learn more about one another. For children, playing can be learning. Most important: keep it simple and enjoy yourselves!
Once you are matched with your Little, a Match Support Specialist from the agency will be in regular contact with you to provide assistance and give feedback. Any time you are unsure about what to do or how to handle a situation, you will have a Match Support Specialist there to help. They'll help you with ideas for activities, guidance for handling possible difficult situations, and feedback on how you are making a difference.
A Big Couple is a pair of Bigs who are married and want to be matched together to the same Little Brother. This a great option for couples that would prefer a shared experience as opposed to each of them having their own Little. The benefit of a Big Couple is that the child gets to build a relationship with both parties and gain different perspectives from his mentors.
Absolutely! Whenever you are interested in having one of our agency representatives share our mission with others, contact us. We can provide audio-visual presentations, videos, speeches, e-presentations and materials about Big Brothers Big Sisters. Contact us at 404-601-7000.