NFL ALUMNI SPEAKS AT BBBSMA 2023 BIG DRAFT EVENT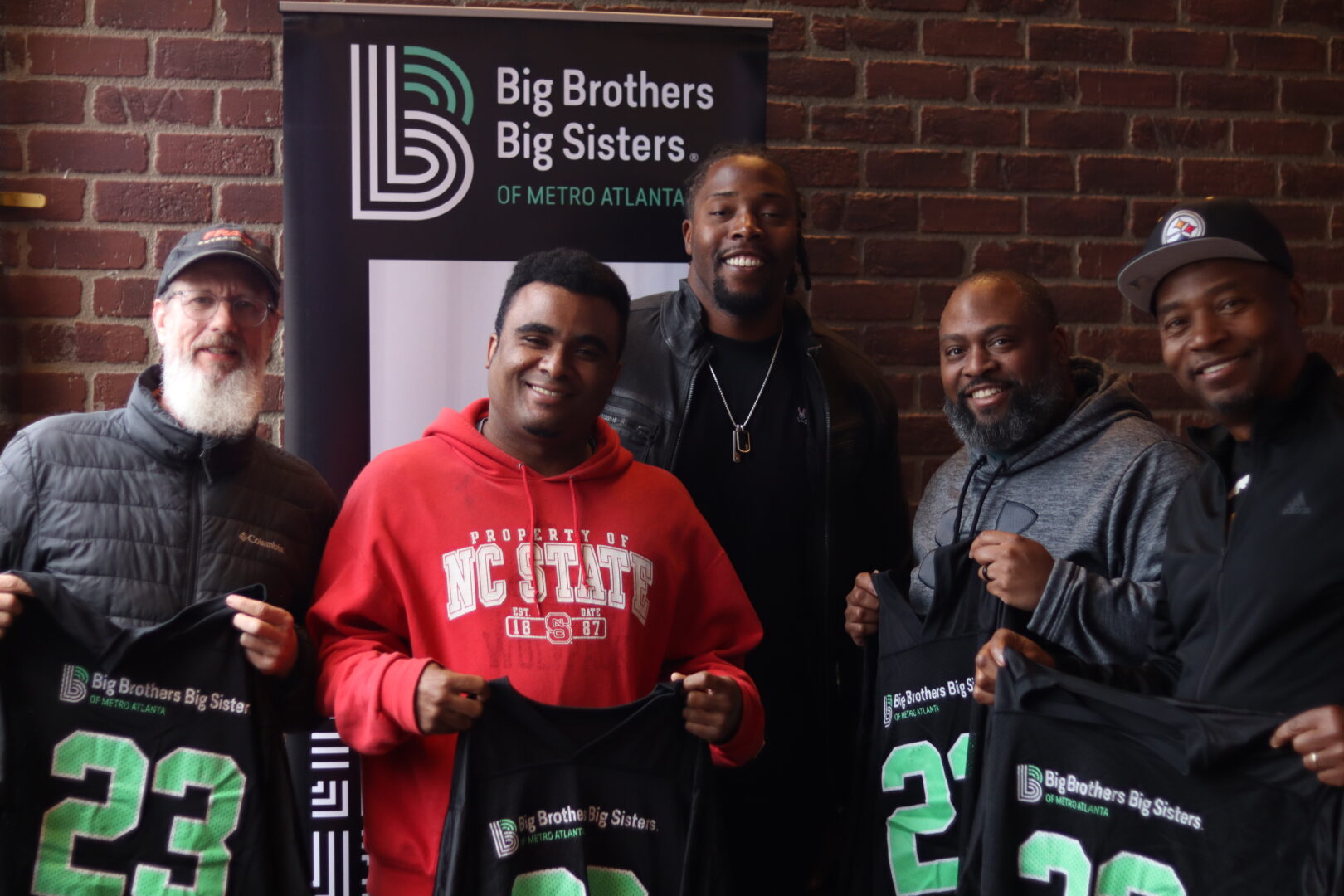 ATLANTA – Big Brothers Big Sisters has teamed up with the NFL to inspire change because now is the time! Although the NFL season is over, our search for potential Bigs is only just getting started.
We're also excited to announce that we've officially teamed up with former NFL star, Lawrence Sidbury Jr., as he shows his support for the Big Draft!
Currently, there are currently 707 local children waiting for a volunteer mentor, called a "Big". We launched The Big Draft to recruit more Bigs, and on April 26th we introduced the "draft picks" from the season.
As a part of this partnership, Big Brothers Big Sisters of Metro Atlanta hosted a 2023 Big Draft Recruitment Event on April 26th, 2023 at the Cumberland Mall Buffalo Wild Wings.
Attendees enjoyed networking, free food & drinks, learning about the BBBSMA mission: to ignite the potential of youth through mentoring, and hearing from NFL & Falcons alumni, Lawrence Sidbury, Jr. on his experience with BBBSMA, all while discovering what it takes to be a mentor to an awesome kid!
On the day of the event, BBBSMA invited attendees to register for a future virtual Big orientation to learn about becoming a Big Brother or Big Sister.
"We had a great turnout for our Big Draft event! Bigs and potential Bigs had the chance to hear from NFL alum Lawrence Sidbury, Jr. about his mentoring journey while enjoying some tasty Buffalo Wild Wings food and drinks," said Jacob Kreutz, BBBSMA Corporate & Community Engagement Manager. "Thank you to Lawrence for coming out to encourage our inquiring volunteers, and to Buffalo Wild Wings for hosting us!"
Lawrence made sure to explain what BBBSMA means to him, "This organization just aligns with everything I'm about. I love what y'all stand for, I love what y'all do. I love the authenticity. Even where you guys have moved, it's strategic to serve more people in that community."
We are in great need of mentors, or Bigs, in Cobb, Cherokee, Paulding, and Douglas counties. Please go to https://bbbs.tfaforms.net/f/Volunteer-Inquiry?campid=7016O000001OW1W to learn more about becoming a Big.
Big Brothers Big Sisters of Metro Atlanta's one-to-one mentoring program works with volunteers, parents, and families to help create relationships that defend, inspire and empower the potential that lives within every kid.