BBBSMA HOLDS ANNUAL GRADUATION CELEBRATION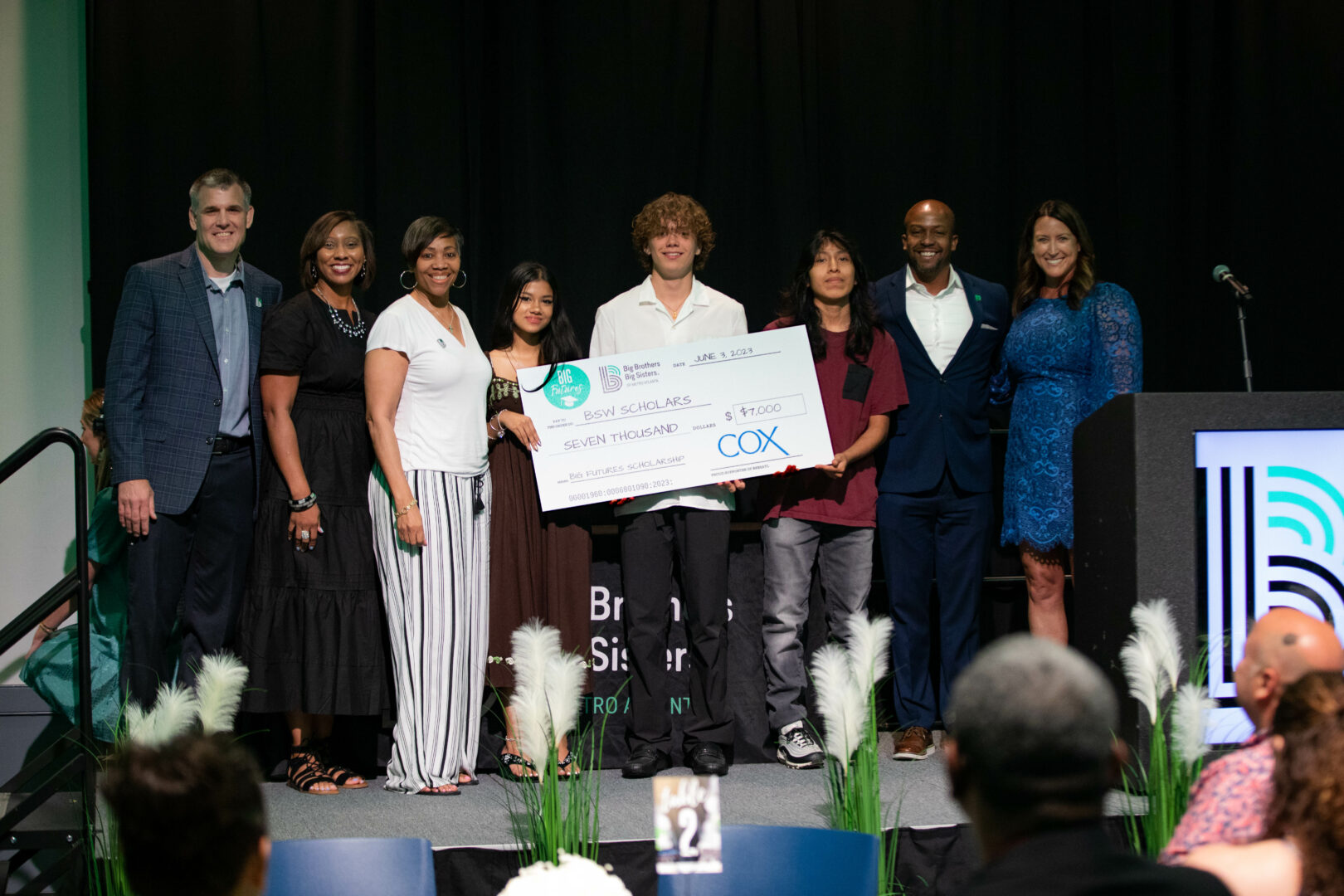 Big Brothers Big Sisters of Metro Atlanta (BBBSMA) celebrated our 34 graduating high school senior Littles at our 2023 Graduation Celebration on Saturday, June 3rd, 2023 at Georgia State University. Almost 90% of BBBSMA high school senior Littles are graduating on time and are pursuing post-secondary education or the military. 17 high school seniors were in attendance at the event.
BBBSMA Board Member, Richard Makerson, was in attendance to give the Welcome from the Board of Directors.
Our Master of Ceremonies was Chaz Chapman, who served as the Vice President of Kennesaw State's Black Alumni Society, is a 2020 United Way Volunteer Involvement Program alum, was included in the 30 Under 30 and the Immersion Fellowship Chair for the Young Nonprofit Professionals Network of Atlanta, and was a pro bono consultant for Compass Pro Bono.
BBBSMA's Marketing and Communications Specialist, and Site-Based Big Sister to Kiora, Chelsey Kelly, then gave the invocation. After the invocation, lunch was served and our Keynote Speaker for the event, Insight Global's Matt Gonsalves, took the stage.
Next, BBBSMA Little Sister, Kendall-Kimora Brown, gave a special rap performance. We then had four featured high school senior match speakers take the stage, including:
Kyla & Lisa – Kyla has been matched to Lisa in the Beyond School Walls Program since November 2022. She graduated from South Atlanta High School and plans to attend Georgia State University and major in Criminal Justice.
Jaden & Jamie – who have been matched since July 2013 in Community Based Program. Jaden graduated from Mohammed Schools of Atlanta and has plans to attend college and study business/ and or nursing.
Ryder & Jim – who have been matched since September 2022 in the Beyond School Walls Program. Ryder is graduating from Chamblee High School.
and Aniyah & Gloria – who have been matched since September 2014 in the Community Based Program. Aniyah is graduating from Morrow High School and plans to a attend college to pursue a career as a graphic designer.
Our seniors were then each individually invited to walk the stage as their name was read by BBBSMA Big Futures Manager, Teri Fetiere.
Following that, our Alumni Ceremony and Recognition of Parents was conducted in which each Little pins their Big in recognition of the time, effort, care, and dedication they've shown throughout the match.
Then, the BBBSMA Class of 2023 received $18,000 in scholarships!
2023 Scholarship Winners
A $1,500 scholarship from The Atlanta Braves Foundation was awarded to Eric White Jr. Eric plans to attend South Carolina State University and major in Physical Education with aspirations to become a professional track star and own a fitness business.
A $2,000 scholarship from Fiserv was awarded to Daphne Lipson. Daphne plans to attend Valdosta State University and aspires to be an elementary school teacher.
A $2,500 scholarship from Whataburger was awarded to Jocelyn Quechol-Elias. Jocelyn plans to attend Oglethorpe University and major in Biology with aspirations to be a pediatrician.
A $2,500 scholarship from Georgia Power was awarded to Charity Odom. Charity plan to attend Georgia Southern University and major in Radiologic Sciences/ Health Sciences with aspirations to be a cardiovascular interventional sonographer.
The $2,500 scholarship from the Benjamin "Ben" Rohrer Scholarship Fund at KPMG was awarded to Sharon Ajayi. Sharon plans to attend Howard University and major in psychology/pre-med with aspirations to be an anesthesiologist or Trauma Surgeon.
After that, BBBSMA Chief Impact Officer, Kara Stimpson, presented 7 senior scholarships winners from Chamblee High School on behalf of the Beyond School Walls program at Cox Enterprises. Each year, Cox Enterprises generously awards eligible seniors a scholarship to help propel their futures.
This year, Cox awarded $7,000 in scholarships. Congratulations to this year's recipients: Grant Polk, Tahmid Jamal, Jace Tiguila, Ayesha Shova, Ryder Santamaria, Sophie Li, and Brian Ortega-Vicente.
BBBSMA President & CEO, Kwame Johnson, then wrapped up the celebration by expressing how proud he is of our high school senior Littles, and how thankful he is to our Bigs, Families of Littles, and Beyond School Walls and Big Futures Partners.
Thank you to our Beyond School Walls Partners: UPS, Cox, Google, Chick-fil-A, Children's Healthcare of Atlanta, and Insight Global.
As well as our Big Futures partners: The Atlanta Braves Foundation, Fiserv, Georgia Power, KPMG, PPG, and Whataburger.
Big Brothers Big Sisters of Metro Atlanta's one-to-one mentoring program works with volunteers, parents, and families to help create relationships that defend, inspire and empower the potential that lives within every kid.