BBBSMA BSW Program Kicks Off at Insight Global
On March 15th, 2023, 20 Cross Keys High School students visited the Insight Global Headquarters in Dunwoody, GA for a Beyond School Walls Spark Event!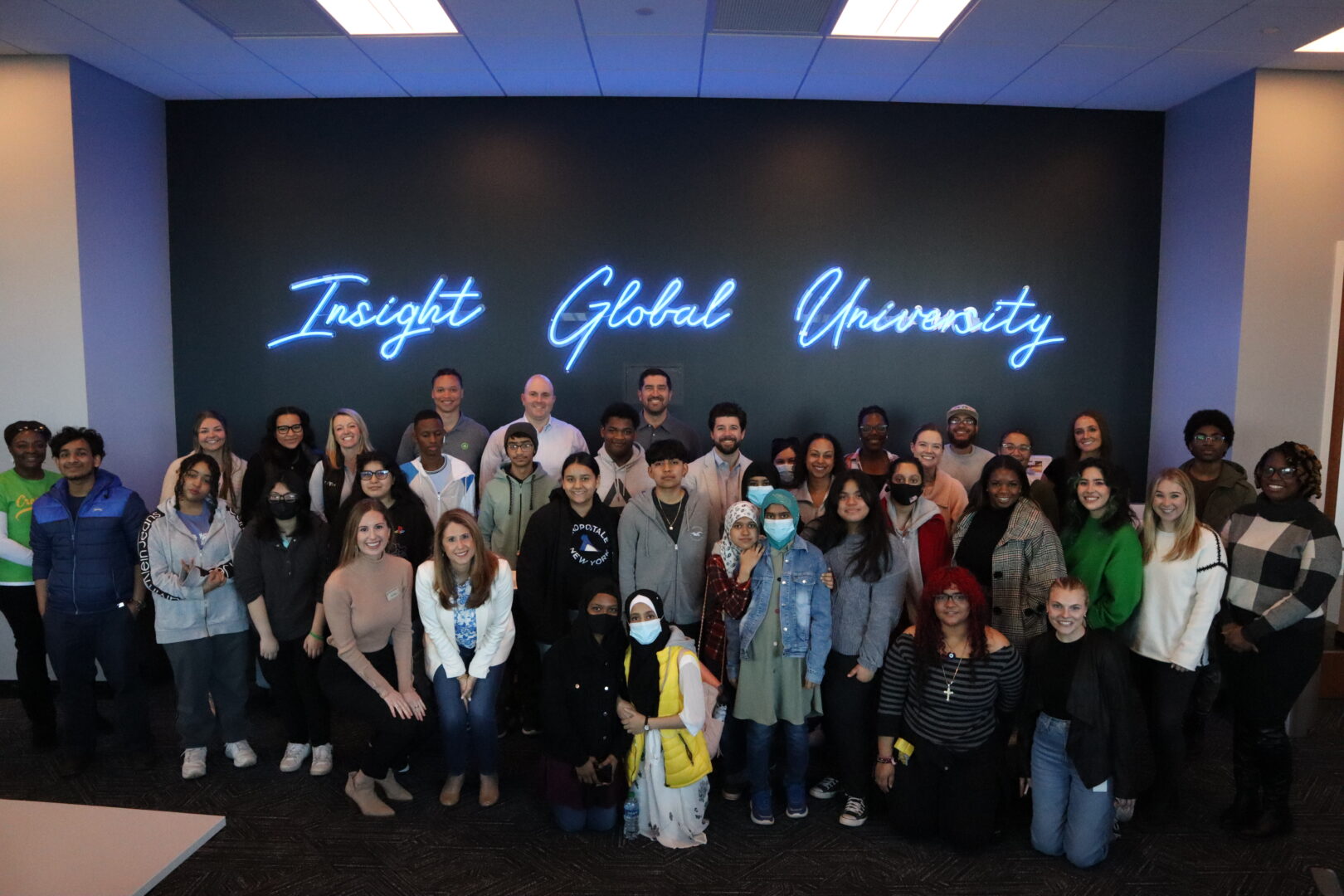 The students were chartered over to Insight Global from school for a few fun hours. They were given a tour and then were able to sit with Insight Global professionals for lunch, questions, conversation, and games.
For the last part of the day, students were asked to choose their area of most interest from four categories: Hiring Practices, Office Environment, Leadership, and Training & Development. Once they choose their area of interest, they were sat at a table with Insight Global employees trained in that area in order to ask them questions and hear more about that profession.
"It was such a fun day and I heard so many inspired voices coming from the students as they learned about Insight Global and saw the way to reach their potential!," said BBBSMA's Director of Innovative Programs, Megan Arthur. "Beyond School Walls is going to be AMAZING with this group."

"We are so excited about this partnership and look forward to a long, productive relationship," said Cross Keys High School's Principal, Brittany Cunningham.
"This is an amazing partnership that you all have created here," said Insight Global National Director of Managed Services, Jordan Holley. "The event gave an awesome view into the impact we can all make on the bright eyed youth around Atlanta. I could not be more proud to participate as a Big in the Beyond School Walls program!"
Thank you to Cross Keys High School & Insight Global for partnering with us to give these students this amazing opportunity! We want to specifically thank Insight Global's Allison Green, Bree Davis, & Imani Crosby, Cross Keys HS's Amy Grant, Natacha Bertrand, Federica Teodori, & Catalina Valdez, and BBBSMA's Megan Arthur, Teri Fetiere, Marcella Ruiz, Michele Pearce, Upenda Dubose, John Mangan, & Chelsey Kelly for making this event possible!
Big Brothers Big Sisters of Metro Atlanta's one-to-one mentoring program works with volunteers, parents, and families to help create relationships that defend, inspire, and empower the potential that lives within every kid.
If you're interested in becoming a MatchMaker or a Big, click the highlighted links here.
Related: BBBSMA, Google, & Mays HS Partnership Launch