BBBSMA & BlackRock Partner for a Fireside Chat
ATLANTA – On October 10th, 2023, Big Brothers Big Sisters of Metro Atlanta (BBBSMA) partnered with BlackRock's Black Professional Network (BPN) Advocacy & Engagement Committee for a fireside chat at the BlackRock Atlanta iHub to spotlight opportunities for the BlackRock iHub to engage with Atlanta non-profit organizations and encourage colleagues to give back to the local community.
BlackRock staff heard from BBBSMA CEO, Kwame Johnson, the BlackRock Atlanta iHub Head of Community Strategy, Qaadirah Abdur-Rahim, and BlackRock's Tamia Marrow, an Analyst Portfolio Manager in Atlanta within BlackRock's EII Index Equity Team. They discussed the benefits of mentorship, the opportunities to engage as mentors ("Bigs"), and the impact of the investment in these mentees. This fireside chat featured a conversation of the impact of the iHub on the Atlanta community and emphasized BlackRock's strategic pillars and community engagement priorities.
"The conversation with Kwame and Qaadirah was invigorating and inspiring," said Tamia Marrow. "After learning about the many benefits of mentorship, I feel empowered to share my own story and have an impact on someone else through the power of mentorship."
Johnson and Abdur-Rahim spoke about how they became involved in the non-profit space in Atlanta, the history of BBBSMA, what mentorship means to them, the benefits of mentorship to the Atlanta community, why mentorship is important to the iHub, and what some of BBBSMA's current needs are.
"Until you find your purpose in life, you really can't be the best version of yourself," said Johnson. "For me, it's about finding that purpose, that passion, and figuring out what you're really good at, your superpower, and merging them together. A lot of us as leaders aren't comfortable with who we really are, we don't show up with, 'I found my passion in jail'. Your story can help somebody, your story can save somebody."
"One of the biggest opportunities we have is to give back to the population that is coming behind us," said Abdur-Rahim. "The goal is to help the next generation develop the skills and abilities needed to be successful in their own right, just like those present in the room today. By providing mentorship through organizations like Big Brothers Big Sisters, our team members at BlackRock unite around our purpose to help more and more people experience financial well-being."
Speaker Bios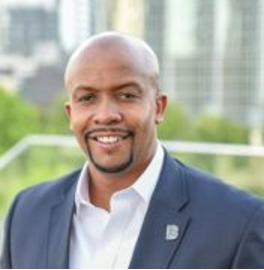 Kwame Johnson serves as President & CEO of BBBSMA. Kwame brings 15 years of experience to the position, having worked for a number of national and local nonprofit organizations, beginning his career as the National Director of Programs with the Woodson Center and Director of Corporate Relations at Communities in Schools, both based in Washington D.C.
Before joining BBBSMA in March 2018, he served as the Executive Director of the Greater Atlanta Region for PowerMyLearning, where he increased the organization's revenue by 55% and program reach by 110%. He has been an active member of the nonprofit sector for many years, serving on numerous professional boards and committees. Kwame has received national recognition for his work including the Social Entrepreneur Program of the Year Award from the Manhattan Institute, 40 Under 40 Most Influential People in Washington, DC Award, and the 2020 Atlanta Business Chronicle Most Admired CEO Award. Kwame is from Syracuse, NY, and he holds a degree in Business Administration from the University of Maryland.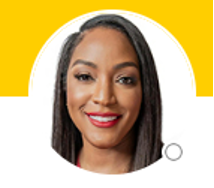 Named one of "America's Leaders of Change" by the National Urban Fellows program, Qaadirah Abdur-Rahim has devoted her life and career to breaking the generational poverty cycle and dismantling injustice systems that marginalize people and communities. As a nonprofit founder, CEO, Cabinet-level government executive, and community strategist, she has fought to empower youth and improve social inequities.
In her previous role as the City of Atlanta's Chief Equity Officer, Abdur-Rahim worked with city leadership to develop progressive policies and programs to address equity, diversity, inclusion, and sustainability issues. Specific focus areas included economic and workforce mobility, housing affordability, health, education, youth engagement, and LGBTQ affairs. As Chief Equity Officer, she led the codification of the city's first Office of Equity, Diversity, and Inclusion, launching and overseeing a city-wide equity task force with 18 department commissioners and directors. She also overhauled the city's branding to enhance Atlanta's reputation as an equitable, diverse, and inclusive city. In addition, she led the development of a children's savings account program, ensuring all kindergarten students can access a $50 savings account.
Before joining the City of Atlanta, Abdur-Rahim served for nearly 17 years as co-founder and CEO of Future Foundation, a nonprofit that works to break the cycle of generational poverty by serving under-invested public-school students in Atlanta and Fulton County. She grew the organization's revenue by more than 400 percent. As a product herself of low-performing schools and a first-generation college graduate, Abdur-Rahim brought a unique understanding of the issues and challenges faced by the students Future Foundation serves.
A graduate of the University of California, Berkeley, she earned an MBA from the Goizueta School of Business at Emory University and is a former U.S. Air Force Reservist.
Moderator Bio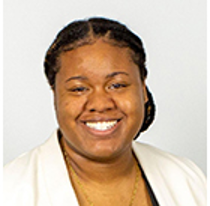 Tamia Marrow, Analyst, is a Portfolio Manager within BlackRock's ETF and Index Investments (EII) Index Equity team. Tamia is responsible for managing 40-Act Mutual Funds and Sub-Advised funds, leveraging market expertise, a deep understanding of benchmark methodologies, and technology to consistently deliver precise investment performance.
Tamia's service with the firm began in 2020 during the Summer Analyst Program. Prior to joining BlackRock after graduation, Tamia worked as a Talent Analyst at Vaco in Raleigh, NC. She was responsible for identifying and recruiting top talent for accounting and finance firms throughout the Research Triangle.
Tamia earned a Bachelor of Business Administration with a Concentration in Human Resource Management from North Carolina Central University.
Big Brothers Big Sisters of Metro Atlanta's one-to-one mentoring programs work with volunteers, parents, and families to help create relationships that defend, inspire, and empower the potential that lives within every kid.