Ernest and Patrice Greer are the 2021 Legacy Awards Honorees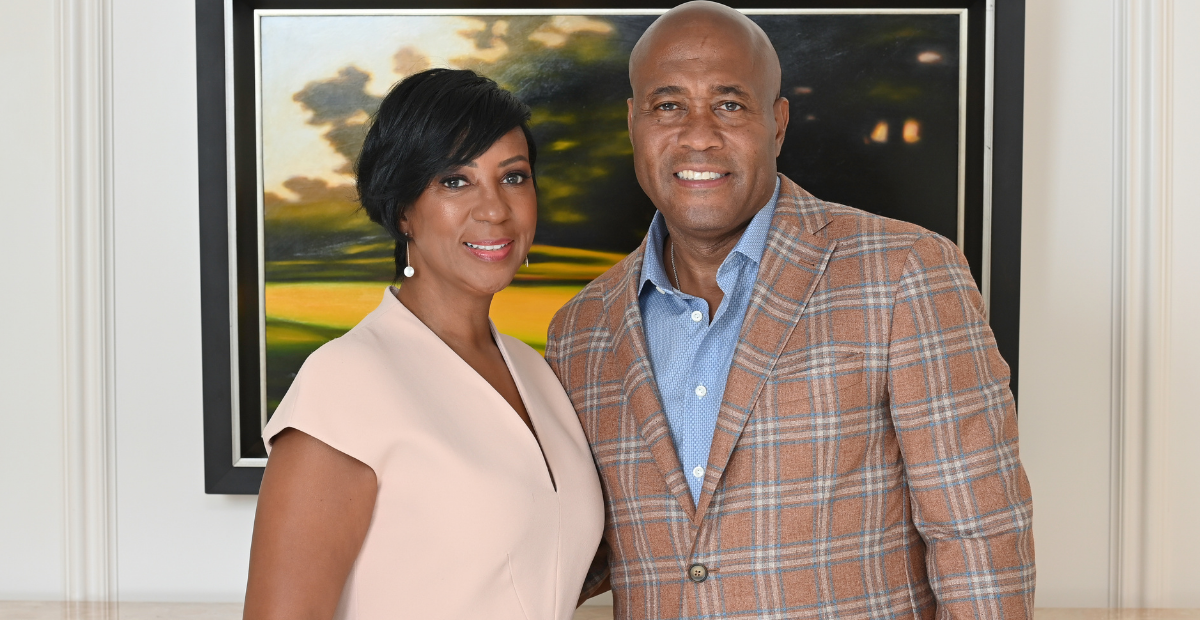 Big Brothers Big Sisters of Metro Atlanta is dedicated to advocating for youth in our community — inspiring young people to thrive by reaching their fullest potential. Our 2021 Legacy Awards honorees, Ernest and Patrice Greer demonstrate our organization's ideals in their continued commitment to lift up communities facing adversity in metro Atlanta.
On September 18, 2021 Big Brothers Big Sisters of Metro Atlanta will honor Ernest and Patrice Greer as part of Legacy Awards Live. This year, the annual fundraising gala will blend the best of live and virtual experiences, broadcasting live from a state-of-the-art studio to dinner parties at intimate venues throughout Atlanta.
 Ernest Greer, Co-President, Greenberg Traurig, LLP
Ernest LaMont Greer, a St. Louis native, is a President of Greenberg Traurig, an international law firm of over 2,200 attorneys in 40 locations. Ernest is one of the highest-ranking African Americans in a global law firm. Ernest plays a key role in the strategic direction of the firm and firmwide day-to-day operations. Ernest is dedicated to continuing to shape the firm's brand as a collaborative law firm providing high-quality legal work and excellent service to our clients and the communities we serve. 
Ernest is not just a highly accomplished business attorney, but he is an outstanding leader and champion for his community. He uses his global position to reflect the firm's commitment to dedicating time and talents through active involvement in communities in which they live and work. In doing so, Ernest served as the Chairman of the Georgia Chamber of Commerce in 2014, where he was the first lawyer to serve in this capacity in the Chamber's more than 100-year history. At present, he serves on the boards for Children's Healthcare of Atlanta, the Atlanta History Center, Achieve Atlanta, the Atlanta Police Foundation, the Lawyers' Committee for Civil Rights Under Law, and Equal Justice Works. Ernest also currently serves as the Director of Buckhead Coalition and is a member of the Rotary Club of Atlanta, and the Atlanta Chapter of the National Association of Guardsman, Inc. Past board memberships include the Center for Civil & Human Rights, 100 Black Men of Atlanta, The Boys and Girls Clubs of Metro Atlanta, and The Carter Center's Board of Councilors, which he joined at former President Carter's request.
  Ernest's leadership, accomplishments, and legal practice have been recognized by many industry publications and organizations, and he was recently announced as a 2022 inductee to the Junior Achievement (JA) of Atlanta Hall of Fame, an honor established by the Atlanta Business Chronicle and JA of Georgia to recognize individuals who have made exceptional contributions to the local community. He was also recently named 2021 CEO of the Year by The Atlanta Business League, recognized for his commitment to minority business development and community activities. Additional accolades include recognition by the National Law Journal (Equality Trailblazer), Atlanta Magazine (Atlanta 500 – The Most Powerful Business Leaders in Atlanta; Top 100  Attorneys in Georgia), The Atlantan (Philanthropist of the Year), Atlanta Business Chronicle (Most Admired CEO; Corporate Diversity Champion; 100 Most Influential Atlantans), The Daily Report (Distinguished Leader), National Bar Association (Heman Marion Sweatt Award, Sankofa Award), Best Lawyers in America, Chambers & Partners USA, Georgia Super Lawyers (Top 100 Lawyers in Georgia), and Georgia Trend's Legal Elite. In 2018, Ernest was inducted into the Gate City Foundation's Hall of Fame.
Patrice Greer, President, Creative Concourse Concepts, LLC
A native Atlantan, Patrice Greer is President of Creative Concourse Concepts, LLC, an airport concessionaire in Hartsfield-Jackson Atlanta International and Savannah/Hilton Head International Airports. Previously, Patrice worked in the corporate world as a director of strategic planning for Turner Broadcasting System, Inc. and in commercial real estate for GE Capital and JLL. She received her master's degree in business from the Kellogg School at Northwestern University and her liberal arts degree in economics and philosophy from Wellesley College.
Patrice has always been active in her community. She looks forward to joining the board of the nsoro Educational Foundation, which supports children aging out of foster care, beginning August 2021. She recently ended a five-year term on the board of the Community Foundation for Greater Atlanta (CFGA) on December 31, 2020. During her time with CFGA, Patrice played a pivotal role as its Community Committee Chair, while also working on the search committee that successfully identified its new CEO, replacing an executive who had led the organization for over 40 years. In 2020, Patrice also served as a member of the COVID-19 Response and Recovery Advisory Group – a partnership between CFGA and the United Way of Greater Atlanta. She was one of two CFGA board members appointed to this committee, which worked diligently to address the overwhelming community needs created by the pandemic by distributing over $20 million in grants in the region.
 Patrice has served on the boards of Trinity School (Governance Committee Chair), Southeast Energy Assistance (Board Chair), Atlanta Ballet (2013 Ballet Ball Co-Chair), Zoo Atlanta, Junior League of Atlanta (Board Parliamentarian), Alliance Theater (Advisory Board), and the Fulton County Arts Council. Patrice was flattered to be chosen as one of Children's Healthcare of Atlanta's Women of Style and Substance in 2014.
  An active fundraiser, Patrice co-chaired the Swan House Ball for the Atlanta History Center in 2018, when her husband, Ernest, was chair of the center's board. The couple co-chaired the spring 2016 gala for Atlanta's Grady Hospital and the spring 2012 fundraiser for Families First, a non-profit that provides foster care and adoption services. The Greers take pride in raising the highest amounts for each organization at the time of their events. 
 Patrice is a 2003 graduate of Leadership Atlanta. She served as past president of the Atlanta Chapter of Jack and Jill of America, Inc. and is a member of the Dogwood City Chapter of the Links, Inc. and Delta Sigma Theta Sorority, Inc.