BBBSMA Iconic Mentor Auction Raises Over $50,000
In honor of National Mentoring Month, Big Brothers Big Sisters of Metro Atlanta presented the Iconic Mentor Auction from January 16th-31st, 2023.
This exclusive auction gave the highest bidders access to Icons – entrepreneurs, business and civic leaders, athletes, influencers and C-Suite executives – to raise crucial funds for our one-to-one mentoring programs.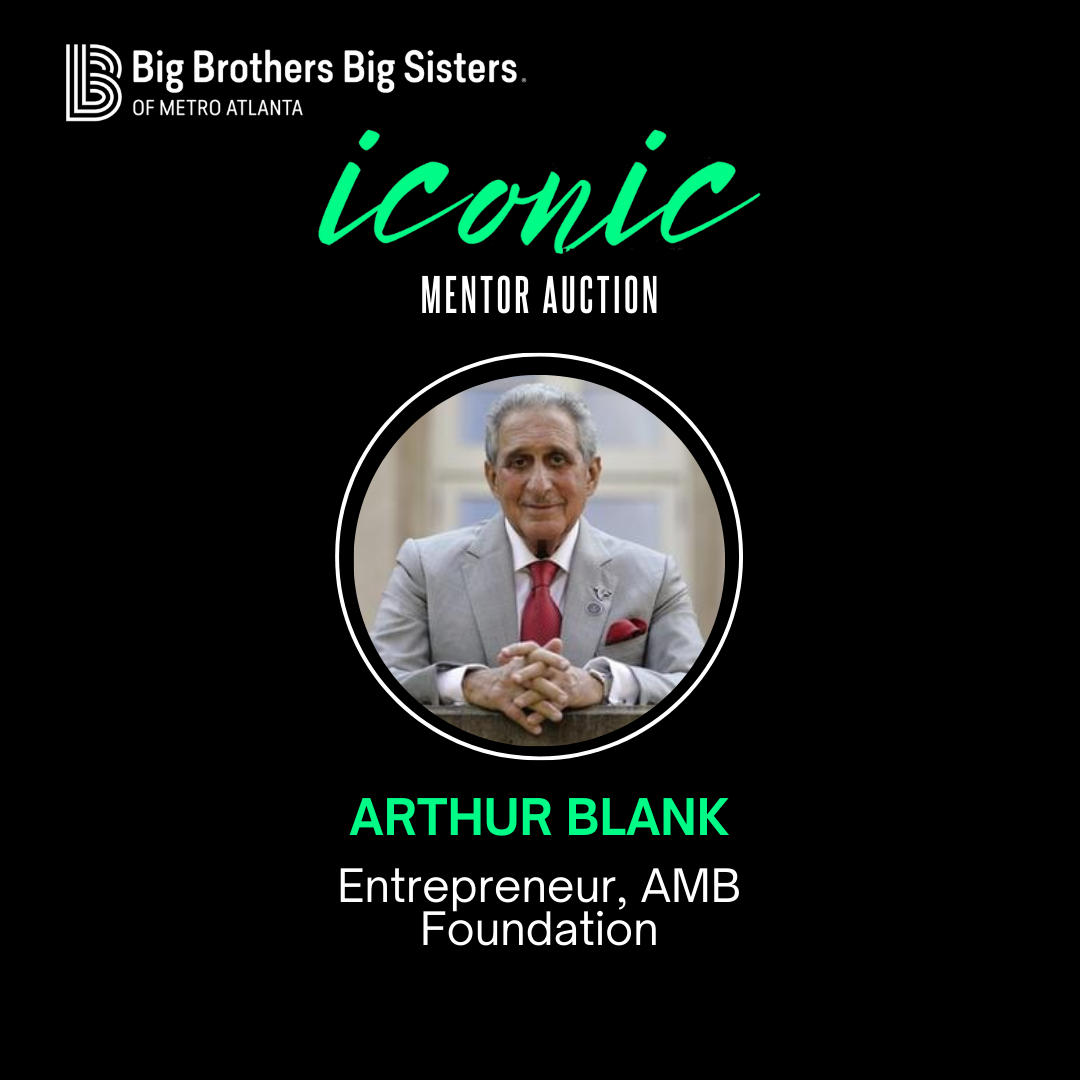 Winning bidders will get to participate in a 1-hour Iconic Mentoring Experience (either in-person or online) with the Icon that they bid on and be mentored by the best.
There were a total of 18 Iconic Mentors to bid on including:
Arthur Blank | Owner Falcons / ATL United
Gretchen Corbin | CEO, Georgia Lottery
Al McRae | President, Bank of America, Atlanta
Paul Brown | CEO, Inspire Brands
C. David Moody, JR | CEO, Moody Construction
George Turner | CTO, Intercontinental Hotel
Mark George | CFO, Norfolk Southern
Kanyatta Walker | VP of IT, Cisco
Gary Brantley | CIO, NFL
Fahim Siddiqui | EVP & CIO, Home Depot
Bryson Koehler | CTO, Equifax
Marq Conley | Director of Retail, Verizon
Bert Bean | CEO, Insight Global
Mohamed Massaquoi | Former Wide Receiver, Entrepreneur
PJ Bain | CEO, PrimeRevenue
Chef Christan Willis | Chef / TV Personality
Rick Frazier | President/COO, Heartland Coca-Cola Bottling Company
Sean Downey | President, Americas & Global Partners, Google
This year's auction raised over $50,000 for BBBSMA one-to-one mentoring programs. The Iconic Mentors that brought in the highest bids were Arthur Blank with the Atlanta Falcons & Atlanta United at $18,500, Paul Brown with Inspire Brands at $8,000, Fahim Siddiqui with Home Depot at $7,000, and Bryson Koehler with Equifax at $7,000.
We want to thank all of our Iconic Mentors, participants, & donors for the contributions. To learn more about the Iconic Mentor Auction, you can go to https://bbbsatl.org/ima/.
We also want to celebrate January 2023 being officially recognized as "Big Brothers Big Sisters of Metro Atlanta Month" by Fulton County and Fulton County Commissioner Natalie Hall-District 4 .The proclamation said "NOW, THEREFORE, BE IT RESOLVED, That the Fulton County Board of Commissioners, recognizes Big Brothers and Big Sisters of Metro Atlanta for their unwavering commitment to igniting the potential of our youth, and does hereby proclaim the month of January 2023 as "BIG BROTHERS AND BIG SISTERS OF METRO ATLANTA NATIONAL MENTORING MONTH" in Fulton County, Georgia."