Give Big. Defend Potential.

Young people have always had potential. Sometimes all they need is someone to defend it. Matching Littles with caring, committed mentors changes lives.
No matter the amount, your donation to Big Brothers Big Sisters of Metro Atlanta strengthens mentoring relationships for Bigs & Littles in your community.
Make a one-time donation now, or become a Match Maker and begin recurring donations today.
Our new location: 
680 Murphy Avenue SW, Suite 1090
Atlanta, GA 30310
Big Brother Christian & Little Brother Brayan
Christian Doetsch and his Little Brother Brayan have been matched for almost 9 years. Brayan shared that his Big respects him for who he is and is just a great mentor. The two enjoy attending sporting events together and one of Brayan's favorite memories is when they attended a basketball game and had the opportunity to meet some players. Christian, like many Bigs, shared that he has been impacted by watching Brayan grow and that he's very proud of the young man he's become and believes in his uncapped potential.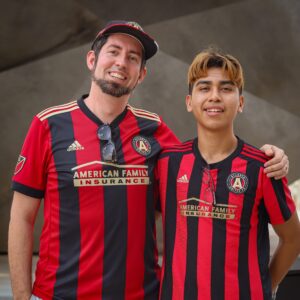 Big Sister Carla & Little Sister Leah
Big Sister Carla Leary and Little Sister Leah have been matched for more than 7 years. Since the beginning, they've had a wonderful connection. Leah is active in many clubs at school and is passionate about cheerleading. Carla has always been there to support her academically and attends as many cheer competitions as she can. The two can praise each other for a job well done and encourage each other to do what they believe to be right. They've both expressed that they couldn't ask for a better match and have been there for one another through both the good and difficult times.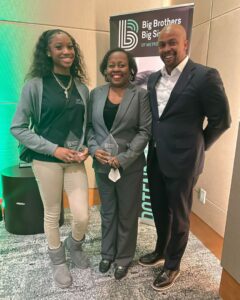 Big Sister Sarah & Little Sister Abrill
Big Sister Sarah and Little Sister Abrill have been matched for 3 years. In 2022, they participated in a featured segment at BBBSMA's signature event, the Legacy Awards Gala. They were also selected to join Atlanta Mayor Andre Dickens in the annual holiday tradition of lighting Macy's Great Tree at Lenox Square. One reason Sarah chose to become a Big was a desire to help a young child who had immigrated to the US – as she had -- to navigate the complicated process of college prep and application. In addition to their shared love of shopping and fashion, Sarah and Abrill work together to ensure Abrill is on track to achieve her academic dreams. Abrill's mom says of Sarah, "She is very successful in her professional life, and committed to her position as a role model. As the daughter of immigrants herself, she knows the challenges Abrill will face. She is a Big Sister that Abrill can count on."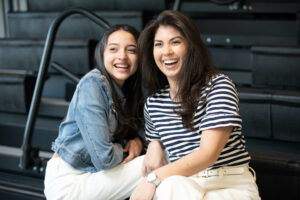 Big Brother Brandon & Little Brother Amir
Big Brother Brandon and Little Brother Amir have been matched for 11 years! The pair love cheering on the Atlanta Falcons, playing video games, and have a shared interest in cooking. Amir's mother, Demetrea credits Brandon's mentorship with helping her son unlock his potential academically and socially – inspiring his work ethic and expanding his interests. Prior to being matched with Brandon, Amir often struggled in class. "Brandon takes the time to tutor and help Amir with his schoolwork," Demetrea shared, "Amir was able to make the honor roll, and earn an Academic Excellence medal in just about a year of being matched." The bond that this match has cultivated over the years provided an important outlet for communication throughout the isolation of the COVID-19 pandemic. Amir's mother notes that her son has not only gained a Big Brother, but a little brother as well. Within a week of being matched back in 2012, Brandon's son was born. Now, little Brandon always looks forward to seeing his "Big Brother," Amir.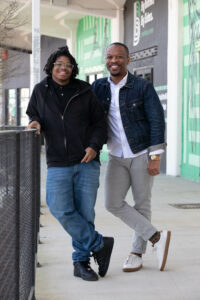 If you are interested in giving via a Donor-Advised Fund (DAF) or a gift of stock, please contact Maria Miller at Maria.Miller@bbbsatl.org or 404-601-7115 with any questions.
Click above on 'Give now from your Donor-Advised Fund' and enter your DAF when prompted.
Donor Privacy Policy:
Big Brothers Big Sisters of Metro Atlanta will not share or sell a donor's personal information with anyone else, nor send donor mailings on behalf of other organizations.