 Fashion Play 2024: Atlanta's Most Unique Fashion Show Returns!
Fashion Play has athletes hitting the runway to flex their most important muscles – their hearts! Join celebrity guests on the red carpet, mingle with influential, fashion-conscious leaders, and enjoy an all-star lineup of alumni and current NFL players, Falcons cheerleaders, Freddie Falcon and surprise guests as they take to the catwalk.
This unique fashion show strikes a balance between fashion, sports, networking and mentoring to deliver an unforgettable night! Funds raised will benefit Big Brothers Big Sisters of Metro Atlanta.
Limited tickets are available. Reserve your seat today!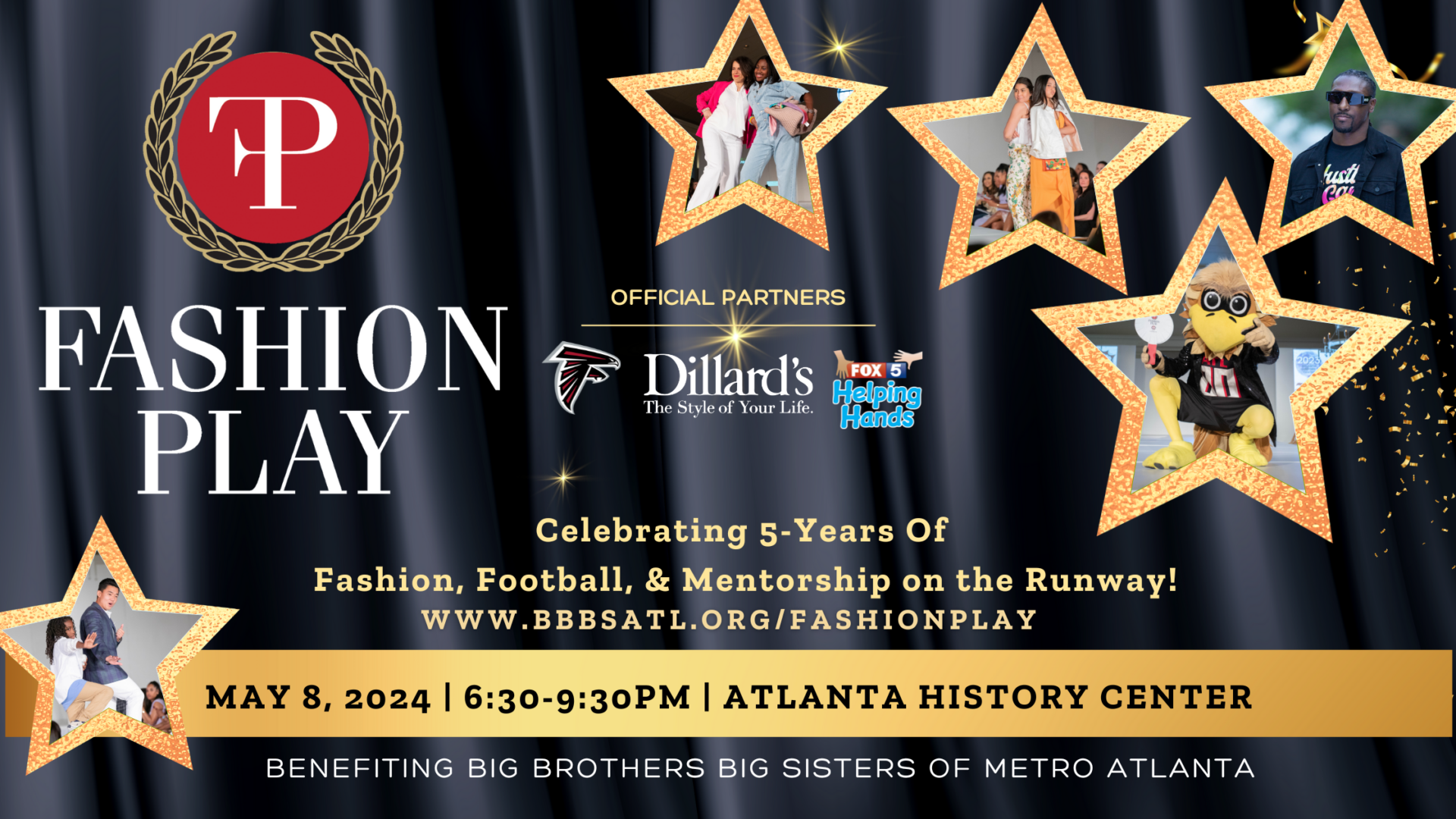 PATRON TICKET | $350
1 seat at the show
Access to the VIP Cocktail Reception
PATRON TABLE | $2000
Tickets: 4 total
4 seats at the show feat. a private table with Concierge service during the show
Access to the VIP Cocktail Reception
HALL OF FAME PRESENTING SPONSOR | $25,000
Name as part of the event logo
Prominent logo recognition on all print materials
Logo included in the half-time show presentation (primary mention)
Opportunity to present a corporate video during half-time show
Logo included on event tickets, invitation, and website (with active link)
Listing as sponsor in press materials
Social media recognition
Recognition during event
Post-event promotion
2-page advertisement in event program
Promotional items included in swag bag
Special tour tickets to Mercedes-Benz Stadium
Tickets: 22 total
12 front-row seats at the show
10 reserved premium seats at VIP tables at the show with dedicated concierge service
Access to Pre-event VIP Cocktail Reception
CHAMP DIAMOND SPONSOR | $15,000
Prominent logo recognition on all print materials
Logo included in the half-time show presentation
Logo included on event invitation and event website (with active link)
Listing as sponsor in press materials
Social media recognition
Recognition during event
Post-event promotion
1-page advertisement in event program
Promotional items included in swag bag
Tickets: 16 total
8 front-row seats at the show
6 second-row seats at the show
Access to Pre-event VIP Cocktail Reception
PLAYERS' CLUB GOLD SPONSOR | $10,000
Logo recognition on all print materials
Logo included in the half-time show presentation
Logo included on event invitation and event website (with active link)
Social media recognition
Recognition during event
Post-event promotion
1/2 page advertisement in event program
Promotional items included in swag bag
Tickets: 10 total
4 front-row seats at the show
6 second-row seats at the show
Access to Pre-event VIP Cocktail Reception
GAME DAY SILVER SPONSOR | $5,000
Logo included in the half-time show presentation
Logo included on event website
Social media recognition
Post-event promotion
Listing in event program
Promotional items included in swag bag
Tickets: 6 total
6 seats at the show
Access to Pre-event VIP Cocktail Reception
TEAM PLAYER BRONZE SPONSOR | $3,000
Listing on event website
Social media recognition
Listing in event program
Promotional items included in swag bag
Tickets: 4 total
4 seats at the show
Access to the VIP Cocktail Reception
SWAG BAG SPONSOR | $1,000
Listing in the event program
Social Media Recognition
Promotional items included in the swag bag